A Message from the President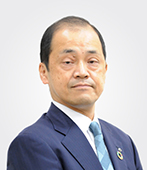 Since its founding in April 1985, NTT Finance Corporation, the first company that NTT established after being privatized, has grown as a finance company within the NTT Group by responding to various changes, including greater diversity in the needs and business environments of clients and greater globalization and digitalization.
In recent years, we spun off our leasing business, the companyís founding business, into NTT TC Leasing Co., Ltd., in July 2020 and took over the accounting business of NTT Business Associe Corporation in July 2021.
Through these moves, we transformed the company into the NTT Groupís integrated payment/finance platformer that offers the full range of services through our billing solution business that provides billing/collection services and cloud payment services, our credit card business, and our finance services business that offers various services related to finance and accounting.
The COVID-19 pandemic is causing dramatic changes in our society, behavior, and lives. We hope for even greater support as we strive to leverage our experience related to financial settlements and finance services acquired within the NTT Group, an ICT pillar, earnestly work to solve the problems faced by our clients and society, and aim to create new value as a partner that can provide support.