A Message from the President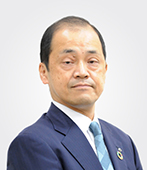 NTT FINANCE was the first company established in April 1985 following the privatization of the Nippon Telegraph and Telephone Public Corporation, and has since served as the core financial company of the NTT Group, addressing diverse customer needs and responding to the changes that accompany developments in the economic environment and globalization. In addition to leasing and installment sales, NTT FINANCE has grown into an enterprise that handles wide-ranging businesses including financing, credit cards, and billing services.
Through our cutting-edge solutions that straddle financial and settlement services, we at NTT FINANCE will persevere in the creation of new value for the future, always striving to be a best corporate partner and best partner in day-to-day life.

President Yoshikiyo Sakai